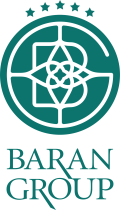 Baran Group, as a leading group in the construction industry of Iran, was established in Mashhad in 2006 and became the founder of a special model of customer service. In this model, which aims to raise the quality of life, an effort has been made to provide customers with a new lifestyle by combining hotel services, building guarantee and after-sales service.
Luxury residential units in four tower hotels
Successful corporate groups in the field of construction, sales and operation

The first Residential Tower Hotel in Iran
Residential Towers Projects
Next ideas...
Next projects...
Baran Group subsidiary companies ​
Baran Group relies on the strategic principles of honesty, quality, innovation and providing the most desirable services, and by integrating management, engineering and hospitality, offers a variety of services by its subsidiaries, including many items, such as investment, technical and engineering services, management contracting, hospitality and tourism services, development of new network technologies, safety and security services, marketing and sales, trade and supply of goods.
Subscribe in Baran monthly email newsletter: